Message from the Head of the Department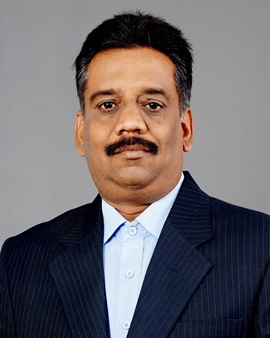 The MBA program at MVGR is an attempt to imbibe all the values and ethos that have made it an epitome of excellence. The department believes in the four pillar philosophy i.e. Academic Excellence, Research and innovation, Professional competence, Social Commitment and Industry Institute Interaction. MBA is a multidisciplinary course creates demand for getting placed in managerial roles in renowned organisations and it identifies entrepreneurial spirit among the students and conduct entrepreneurship development programmes.
MBA program is ranked in 75-100 band of Management colleges by NIRF in India Rankings 2017.
Achieved 100% result in 2015-17 Autonomous batch
The teaching-learning process includes lecturing method, case study based, project based and field surveys. The department has personal growth (PG) club and communication club organized by the students and monitored by the faculty to enhance employability skills of the students through various curricular and extra-curricular activities like group discussions, role plays, presentations, management games, workshops, seminars, fun, sports and games. Students of MBA have been well supported and encouraged to participate in management fests like ECLORE-2K15, AYKYA-2K15, DISHA-2K16, VYUHA-2K16, VIGMAT-2K16 and bagged awards of excellence.
Laboratories & Seminar Halls
Department of management studies encourages faculty development which enables to gain insights on contemporary issues by associating with professional body membership. The faculty of MBA has been registered with professional body membership like NHRD, SHRM, RMAI, AIMA, ICA,CII etc. The major activities include attending seminars and conferences and contributing to news letters.
Vision
To be a centre of excellence in Management education and Research.
Mission
We achieve our vision by imparting value based education to students and enable them to become ethical business leaders and entrepreneurs. We will focus on continuous enrichment of our human resource, development of infrastructure, hone research capacity of the department and continuously interact with industry to be up to date in our teaching-learning process.
Objectives
Enable them to become ethical business leaders and entrepreneurs.
Continuous enrichment of our human resource and development of infrastructure
Hone research capacity of department
Continuous interaction with industry
The program is for 2 academic years with 4 semesters. A student will be declared eligible for the award of degree if he/she fulfills the following academic regulations. A student shall be declared eligible for the award of the degree, if he/she pursues a course of study for not less than two academic years and not more than four academic years. The student shall register for 80 credits and secure all 80 credits. All Theory courses are assessed for 100 marks with a split of 40 marks for internal assessment and 60 marks for semester end external examination.
To impart awareness among the budding managers in terms of preliminary insights towards Management, the department of MBA has initiated bridge courses in the areas of Accounting, Research Methodology and Organizational Behavior.
Dr KSS Rama Raju, International Conference On India Road Map To Sustainability at IIM shillong
Dr KSS Rama Raju, International Conference On management &information system at Bangkok
Dr KSS Rama Raju, International Conference On strategies for Sustainability , Academy of Management, Nepal
Dr GVSSN Raju, International Conference On strategy implementation in bank management at Colombo,sri lanka
Mr D Sidhardha & Dr GVSSN Raju , workshop on case study teaching at IIM culcutta
Mr D Sidhardha & Dr K Rakesh, workshop on research methods &techniques at Christ university, kerala
Mr MVV Bhanu,International Conference on HR metrics & analytics at IIM Tiruchirapalli
Dr k Rakesh , International Conference on models of sustainability at IIM Banglore
Mr T Sai Prasad, International Conference on HR analytics at Christ university, kerala
Dr k Rakesh , International Conference on corporate finance at IIT madras
Mr R Baskar & Mr VSM Srinivas, International Conference on management conclave on business at NIT Rourkela
Dr KSS Rama Raju & Dr GVSSN Raju, International Conference on management conclave at ISB, hyderabad
Mrs P Madhavi Lakshmi, International Conference on business paradigms and emerging trends at NIT, Rourkela
Mrs P Madhavi Lakshmi, International Conference on emerging challenges in HR at IIM Raipur
Mr T Narayana Rao, workshop for hr professionals at SDMIMD, Mysore
Mr VSM Srinivas workshop On finance & accounting research at IIM culcutta
Guest lectures
Ms G Rekha - Regional Manager(HR), synopsis, Hyderabad
Mr Y Shankar(Alumni) - Deloitte , Hyderabad
Mr C A Rama Gopal - Chartered Accountant
Mr Janaki Satish - Canara Bank, Manager, Vizianagaram,
Students Participation
The students are continuously encouraged to participate in various management meets to enhance their managerial skills & abilities. The major students participations are :
PAGEANTRY 2017 at vignans institute on 21st march 2017
VIDURA 2017 at MR pg college on 2nd march 2017
CURA 2017 at NIT Warangal from 18th feb -19th feb 2017
PRABHANDHA-2017 at avanthi institute of engineering on 6th feb 2017
DISHA-2017 at samata college on 3rd & 4th feb 2017
PRAGNYA-2K17 at pydah college of engineering on 3rd feb 2017
CARPE DIEM at IIM Culcutta on 27th -29th January 2017
VYUHA -2016 at miracle college on 18th & 19th march 2016
PRABANDHA at Dr BR Ambedkar university on 4th & 5th march 2016