The need of the hour is to produce an academic community with more creativity and that is the only way to convert our economy to a knowledge based economy. Curriculum of MVGR Autonomous Institution is designed to suit the industry needs that lead to Technical advancement of the society.
---
Advantages of Autonomous Curriculum
Autonomy is a functional status given by UGC to colleges with flexibility to design curriculum that enhances the academic standards and provides better means of excellence.
Choice of Core electives and Interdisciplinary options allows student to learn subject of their interest irrespective of their core branch.
Flexible Academic Calendar that allow students to attend industry internships for short duration.
Better employability options, due to the industry oriented curriculum
Holistic performance measurement using Grade Point Average (CGPA) instead of marks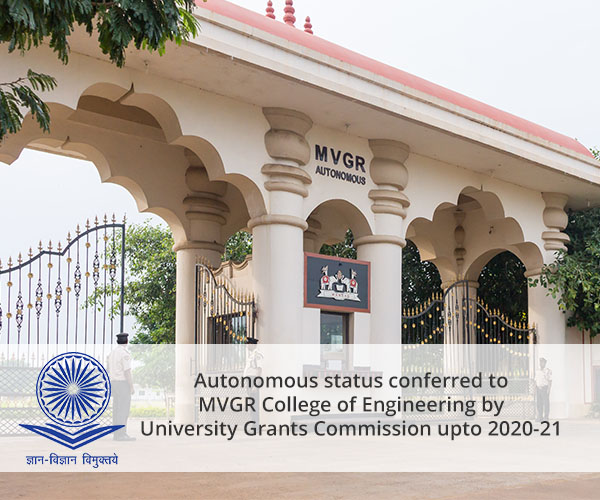 As per UGC, "institutions of higher education in India would do well to invest thought & resources into introducing CBCS. Aided by modern communication and information technology, CBCS has a high probability to be operational efficiently and effectively elevating learners, institutions and higher education system in the country to newer heights"
The Vision is to evolve a higher education system that is suitability blended with provision for knowledge and skills where every student learns with creativity.
Help students develop thinking as well as analytical ability, gets equipped with necessary skills for employment.
Offers students with autonomy, self-learning more flexibility to choose inter-disciplinary courses along with major courses, which enhances scope of education.
Core elective focus on student area of specialization, where as open elective expands knowledge base and allow student to have exposure to other fields of interest.
Boost up the job prospects as the choice of open elective offers a student to opt for specific subject that is the current industry demand.
COURSE PATTERN :
B.Tech. :The program is 8 Semesters over 4 academic years.
B.Tech. (Lateral Entry): The program is 6 Semesters over 3 academic years.
PROGRAM STRUCTURE:
Foundation Mandatory (Basic Science Core(BSC), Engineering Science Core(ESC), Mandatory Learning Core(MLC), English & Humanities Core(EHC) ) - FM - 39-45 Credits
Foundation Elective - FE - 06-09 credits
Core Mandatory(Theory) - CM - 68-76 credits
Core Mandatory(Lab) - CM(L) - 18-22 credits
Core Elective (Theory) - CE(T) - 21-27 credits
Open Elective - OE - 06-09 credits
Directed Study - DS - 02-04 credits
Project - PR - 08-12 credits
Audit Courses - AC - S/N
---
Open electives offered by the parent department are listed in the course structure and are offered to students of other programs also.
For audit course a student is expected to meet minimum contact hours, as prescribed by the department and shall also comply with the requirements of submission of assignments/projects.