Message from the Head of the Department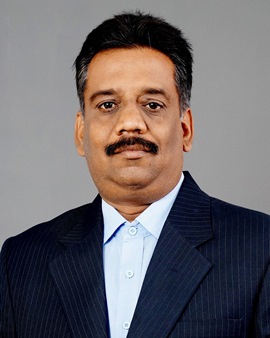 The MBA program at MVGR is an attempt to imbibe all the values and ethos that have made it an epitome of excellence. The department believes in the four pillar philosophy i.e. Academic Excellence, Research and innovation, Professional competence, Social Commitment and Industry Institute Interaction. MBA is a multidisciplinary course creates demand for getting placed in managerial roles in renowned organisations and it identifies entrepreneurial spirit among the students and conduct entrepreneurship development programmes.
MBA program is ranked in 75-100 band of Management colleges by NIRF in India Rankings 2017.
Achieved 100% result in 2015-17 Autonomous batch
The teaching-learning process includes lecturing method, case study based, project based and field surveys. The department has personal growth (PG) club and communication club organized by the students and monitored by the faculty to enhance employability skills of the students through various curricular and extra-curricular activities like group discussions, role plays, presentations, management games, workshops, seminars, fun, sports and games. Students of MBA have been well supported and encouraged to participate in management fests like ECLORE-2K15, AYKYA-2K15, DISHA-2K16, VYUHA-2K16, VIGMAT-2K16 and bagged awards of excellence.
Laboratories & Seminar Halls
Department of management studies encourages faculty development which enables to gain insights on contemporary issues by associating with professional body membership. The faculty of MBA has been registered with professional body membership like NHRD, SHRM, RMAI, AIMA, ICA,CII etc. The major activities include attending seminars and conferences and contributing to news letters.
Vision
To be a premier Institution in Management Education.
Mission
M1: Provide state of the art infrastructure and learning resources to facilitate holistic development.
M2: Enhance faculty competencies in tune with global standards through Industry Institute Interaction, research and other developmental avenues.
M3: Adapt innovative teaching-learning pedagogy and evaluation methodology.
M4: Build an ecosystem for students to develop the skills and attitude to lead an organization.
M5: Produce highly employable individuals and become the top destination for recruiters.
M6: Provide solution for business challenges through consultancy.
M7: Engage in faculty and student exchange programs globally.
Program Educational Objectives (PEOs):
PEO 1: Management graduates shall have fundamental understanding and holistic application of management theory and practice, with sustainable lifelong learning for real life problem solving in an increasingly global, technology oriented, diverse and changing business environment.
PEO 2: Management graduates shall be able to start their own business ventures / demonstrate their leadership capabilities for their employer organization.
PEO 3: Management graduates shall be well informed, ethical and committed corporate citizens contributing to the profession and the community.

The program is for 2 academic years with 4 semesters. A student will be declared eligible for the award of degree if he/she fulfills the following academic regulations. A student shall be declared eligible for the award of the degree, if he/she pursues a course of study for not less than two academic years and not more than four academic years. The student shall register for 80 credits and secure all 80 credits. All Theory courses are assessed for 100 marks with a split of 40 marks for internal assessment and 60 marks for semester end external examination.
To impart awareness among the budding managers in terms of preliminary insights towards Management, the department of MBA has initiated bridge courses in the areas of Accounting, Research Methodology and Organizational Behavior.
Faculty Innovations in Teaching & Learning
The faculty of the department has been continuously engaged in identifying and adopting innovative methods in teaching and learning such that the process becomes effective to meet the purpose. Few of the innovative techniques adopted are stated below:
Inclusive class rooms:
The department strongly believes that the classroom is the basic learning platform. The faculty members take care of involvement of students as and when required in delivering lectures. The student's views and perspectives are encouraged. Further, by considering the entire class and single unit, encourage collaborations of slow learners with bright students to ensure overall integrity.
Multi Media learning process:
The faculty of the department uses multimedia to modify the contents of the material to suit the requirements of students. It helps the teacher to represent the subject matter in a more meaningful way, using different media elements. By incorporating digital media elements in the learning process, the students are able to learn better, since they use multiple senses to understand the concept. In addition, this would also enhance their attention to the information presented.
Case study based teaching:
The students are given a case study related to a particular concept discussed in a course. Then the students are introduced to the case and given time to ponder over the case based on the learned concepts and its application in the scenario presented in the case. The students work on the case outside the class hours and present the analysis of the case to the class and their justification for the chosen alternative for the scenario. This will be debated in the class by opinions from other students. This exercise helps the students in building team playing ability; open to constructive criticism, ability to make decisions in uncertain and ambiguous situation.
Field survey/study:
The department encourages regular interaction with industry for the faculty and students. The faculty guides the students to pursue field study. The faculty and student together discusses about the objective to conduct the field study and the benefits for students through field study. Then the student identifies his preferred firms for conducting field study. Then the faculty guides him in contacting the industry personnel and helping in framing the questions to be pondered during the field study.
Internship:
The department through its industry contacts gives opportunity for the students to apply for internships in various reputed organizations for internships where they work on an assigned task which is important for the organization. Through this the students acquires practical knowledge.
Collaborative learning:
The students are made into teams and assigned tasks to be completed as a team. Working together to solve problems and complete tasks deepens students learning and builds collaborative skills.
Preparing customized online learning resources:
The faculty is involved in preparing customized online learning resources like videos and course contents are uploaded in you tube channel and blogs and the same links are provided to the students.
Web-Links


https://www.youtube.com/watch?v=hsEYu1KLmYs
https://sanyasirajugvssn.blogspot.com/
https://youtu.be/uPW8Qn7grmo
Dr.KSS Rama Raju & Dr.GVSSN Sanyasi Raju participated in 6th Indian Management conclave at ISB, Hyderabad.
Ms.P.Madhavi Lakshmi participated in Emerging Challenges of HR at IIM-Raipur.
Mr. Narayana Rao participated in A strategic model to measure goals and expectations on employee performance at SDMIMD, Mysore.
Dr. EVPAS Pallavi, Ms. P Madhavi Lakshmi, Ms. NDJ Lakshmi participated in National conference on Business Analytics, Insights, Applications & Opportunities at GITAM, VSKP.
Dr. K Rakesh participated in International conference on indigenous models of sustainability, good governance and spiritual transformation at IIM-Bangalore.
Mr.MVV Bhanu participated in HR Metrics and Analytics at IIM-Tiruchirapalli.
Mr. T Narayana Rao participated in International conference on "Inclusive growth through innovative HR practices and alternative Finance" at ITM-Navi Mumbai.
Mr. T Sai Prasad participated in HR Analytics at Christ University, Bengaluru.
Mr. T Sai Prasad participated in Management, Business and Economics-2016 ITM Business School, Chennai.
Ms. P.Madhavi Lakshmi participated in International Conference on business paradigms & emerging trends at NIT Rourkela.
Mr. VSM Srinivas participated in Empirical Finance & Accounting Research at IIM-C.
Dr. K. Rakesh participated in international conference on "Financial markets and corporate finance" at IIT-Madras.
Prof. KSS Rama Raju participated in International Conference on Management and at Bangkok, Thailand.
Ms. P. Madhavi Lakshmi participated in International conference on "Cross cultural dimensions of Management" at Berhampur University.
Mr. T. Sai Prasad participated in HR Plus aimed at creating future – Ready HR Professionals at GVP Campus Visakhapatnam.
Mr. VSM Srinivas & Mr. R. Baskar participated in Management Conclave on Business, Innovations and Sustainability at NIT, Rourkela.
Dr. GVSSN Sanyasi Raju & Mr. D.Sidhardha participated in Case Method Workshop at IIM-C.
Prof. K.S.S Rama Raju participated in International Conference (India's Roadmap to Sustainability Development Goals) at IIM-Shillong.
Dr. EVPAS Pallavi & Mrs. P. Madhavi Lakshmi participated in FDP on Contemporary & Innovative Practices Goals) at NIT, Tiruchirapalli.
Dr. K. Rakesh participated in Teacher summer school on Accounting & Finance at IIM-Calcutta.
Mr. T. Narayana Rao participated in B-Plan competition by Makeintern (IIM-C) at IIM-Kozhikode.
Ms. P. Madhavi Lakshmi & Ms. N.D. Jaya Lakshmi participated in International conference on HR Management at NIT, ICFAI Business School, Hyderabad.
Mr. T. Sai Prasad & Dr. K. Rakesh participated in Research Methodology, Statistical data analysis & Interpretation at ISAR, Chennai.
Dr. K. Rakesh Participated in International conference on Innovative Research in Science Technology & Mgmt at NUS-Singapore.
Mr. T. Narayana Rao , Mr. T. Sai Prasad , Dr. K. Rakesh & Mr. MVV Bhanu participated MDP on "Multivariate Data Analysis" at IIT, Khargarpur.
Guest lectures
Ms G Rekha - Regional Manager(HR), synopsis, Hyderabad
Mr Y Shankar(Alumni) - Deloitte , Hyderabad
Mr C A Rama Gopal - Chartered Accountant
Mr Janaki Satish - Canara Bank, Manager, Vizianagaram,
Students Participation
The students are continuously encouraged to participate in various management meets to enhance their managerial skills & abilities. The major students participations are :
Two day GSIB Fest "SARVATANTRA 2K17"
Two day National Management Meet – "PINNACLE 2017"
Two day National Management Meet – "CHATHURA-18"
4th B-Plan International Championship - "ECHOES 2K17-18"
Two day National Level Management Students Meet "ASTHRA-2018"
Paper Presentation in a Two day Intnl. Seminar on HRM in "Digital Age-ISHRMDA- 2018"
Best Business Pitch Award - Metamorphosis Launchpad-"Shark Tank"
National Level Management Excellence Meet "BITS PRABANDH 2K18"
National Level Management Students Meet "VYUHA-18"
National Management and Technical Students Symposium "GITAMS GLITZ"
PAGEANTRY 2017 at vignans institute
VIDURA 2017 at MR pg college on 2nd march 2017
CURA 2017 at NIT Warangal from 18th feb -19th feb 2017
PRABHANDHA-2017 at avanthi institute of engineering on 6th feb 2017
DISHA-2017 at samata college on 3rd & 4th feb 2017
PRAGNYA-2K17 at pydah college of engineering on 3rd feb 2017
CARPE DIEM at IIM Culcutta on 27th -29th January 2017
VYUHA -2016 at miracle college on 18th & 19th march 2016
PRABANDHA at Dr BR Ambedkar university on 4th & 5th march 2016
64% students from 2016-18 batch are placed in different companies like Abis Exports, ANR Food Traders, CtrlS, Honey Group etc.
70% students from 2015-17 batch are placed in different companies like Abhyeti Technologies, BNP Paribas, CtrlS, Green Peace India etc.
56% students from 2014-16 batch are placed in different companies like Primus, Times Pro, Exide Industries etc.
Last 3 years placement record : &nbsp&nbsp&nbsp &nbsp 2016-18 &nbsp&nbsp&nbsp &nbsp 2015-17 &nbsp&nbsp&nbsp&nbsp 2014-16