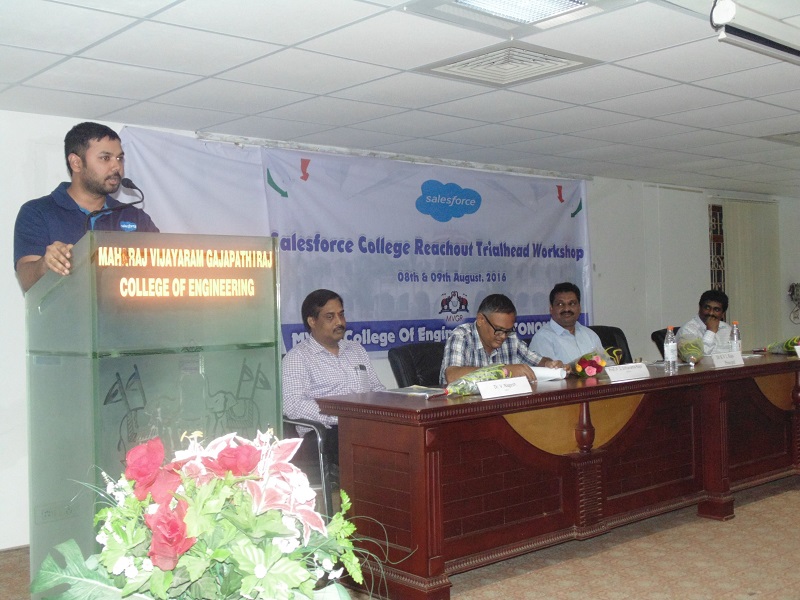 Salesforce Workshop MVGR
Salesforce Workshop MVGR
Salesforce Workshop MVGR
Start Date

End Date

Location

MVGR College of Engineering

Brochures

Event Fees

Rs.0
---
Salesforce.com is an American cloud computing company head quartered in San Francisco, California. Salesforce.com is the world's 4th leading IT company. Salesforce has Customer Relationship Management(CRM) product as well as commercial applications of social networking through acquisition.
Salesforce in association with MVGR College of Engineering (A) has conducted a two day college reachout Trailhead workshop for the final year students of CSE, IT and ECE on 8th and 9th August 2016 with a quality and easy to understand presentations built for student community to learn and adopt Salesforce platform.
Objectives of the workshop:
To educate graduates / post graduates at Premium colleges of India on the World's # 1 Platform Salesforce.com
To enrich technical skills of the candidates for employability in the direction towards which the IT world is heading
Provide additional technical expertise which results in getting short listed during campus drives
Students participated with lot of enthusiasm and earned 6000+ badges in this two day workshop along with many goodies. The feedback from the students was very positive indicating that it will drive them to future learning. Mr. M. Nag Kiran in the valedictory session mentioned that a few students grabbed 50 badges in a single day is a new record created. Students who excelled in training were generously rewarded. Principal Dr. KVL Raju appreciated Mr.Nag kiran and his 20 member team who made this event fun learning. He also mentioned the consistent effort in building the association between industry and institute, put in by Mr. G.Satyanarayana Reddy Asst.Prof I.T Department as a remarkable work. The support from T&P cell, IT, CSE and ECE departments is worth to mention.
The long term expected result from the program is to enhance the skill sets of students for future needs and enabling them to grab opportunities to become employable in many companies which use this platform.