Salesforce.com is an American cloud-based software company headquartered in San Francisco, California founded in 1999 by Marc Benioff and team. Its revenue comes from customer relationship management (CRM) product and it also sells commercial applications of social networking through acquisition and internal development.
MVGR having understood the potential of the technology and platform, started work to understand and build relationship with Salesforce from 2014. Assistant Professor G.Satyanarayana Reddy from I.T department took the initiative and invested time and energy to understand and network with salesforce eco-system which comprises of large and small scale industries with decent salesforce practice.
This initiative is being recognized by salesforce and sanctioned "MVGR salesforce student group" by which MVGR became 1 st student group in India and initial 10 colleges in the world to have Salesforce student group. This enables to have an ease to learn and to interact with salesforce developer community and with all the small and large scale industries having salesforce practice. Nagarro, Concert.io, Celebel, Dazeworks are few initial companies to roll out offer letters to MVGR students having decent salesforce knowledge.
Guests visited from salesforce and its eco system:
1. Amanda Bauman, Senior Manager, Student Community @Salesforce, Austin, Texas
2. Viyom Jain, Global Business Unit Head, CRM at Nagarro, Gurgaon, India
3. NagKiran manyala, Developer Relations Manager at Salesforce,Hyderabad Area, India
4. Vishwa Vikas Dagala, Associate Manager,Developer Relations, Salesforce
Purpose of visit: 
@ Mrs.Amanda: To interact with students and to know how things are working out in MVGR related to salesforce and to understand how INDIAN colleges operate. Find out if any support required for our student group.
@ Mr.Viyom Jain:
On our request, visited the campus to discuss MVGR - Nagarro relationship building.
@ Mr. NagKiran & Mr.Vishwa Vikas
Support MVGR to sustain in Salesforce eco-system and brand building MVGR.
Accompanying guests Amanda and Viyom
Response: 
@Amanda:
She is overwhelmed with the activities that are being organized by "MVGR salesforce student group" and shared her vision towards the global career opportunities that can be achieved through this platform.
@Viyom Jain
He was very much happy with the performances of MVGR alumni at Nagarro and assured further placements. He shared the vision of expanding their collaboration with MVGR in curriculum design, Train the trainer sessions, etc… on multiple platforms like IoT, AI and deep learning.
@Nagkiran manyala and Vishwa vikas Dagala
 Interacted with the students and wished a brighter career for all the participants of the 15 day training program.
After the interaction, Principal Dr. KVL Raju, has thanked the team salesforce for the initiative and assured efforts from MVGR to strengthen the association. Dean T&P, Dr.M.Sunil Prakash, congratulated the members of salesforce student developer community for their achievements on this platform. Dean Quality Assurance Prof. P.Sitharama raju, shared his vision to have longtime relationship which should be a win-win. Heads of the CSE and IT departments Dr.C. Kalyan Chakravarty, Dr. V.Nagesh shared the possibilities of designing and developing curriculum which can be integrated in regular course. Vice-principal Dr. Y.M.C Sekhar and Dean R&D Dr. R.Ramesh were present during the interactive session.
salesforce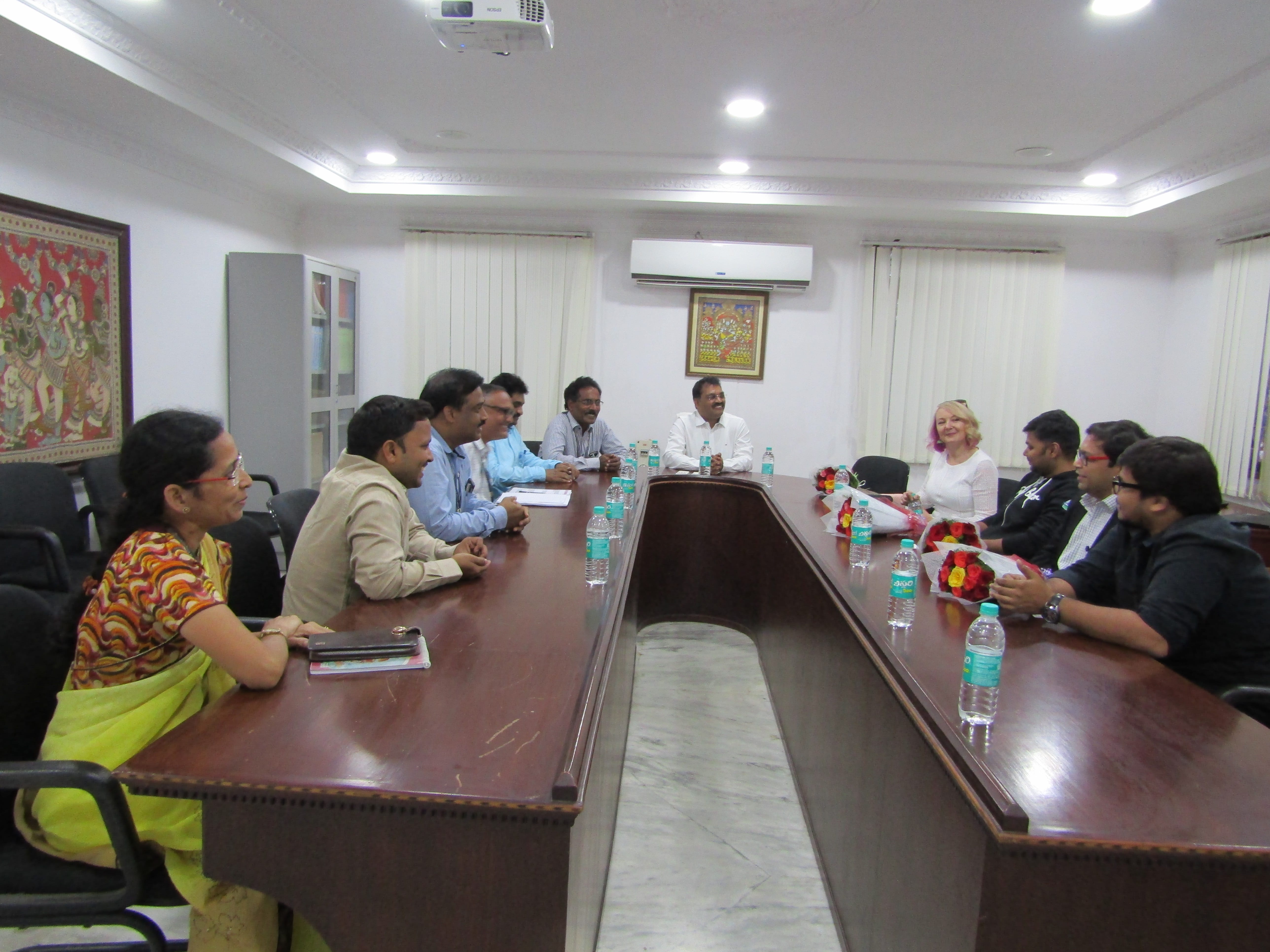 Interaction of Team Salesforce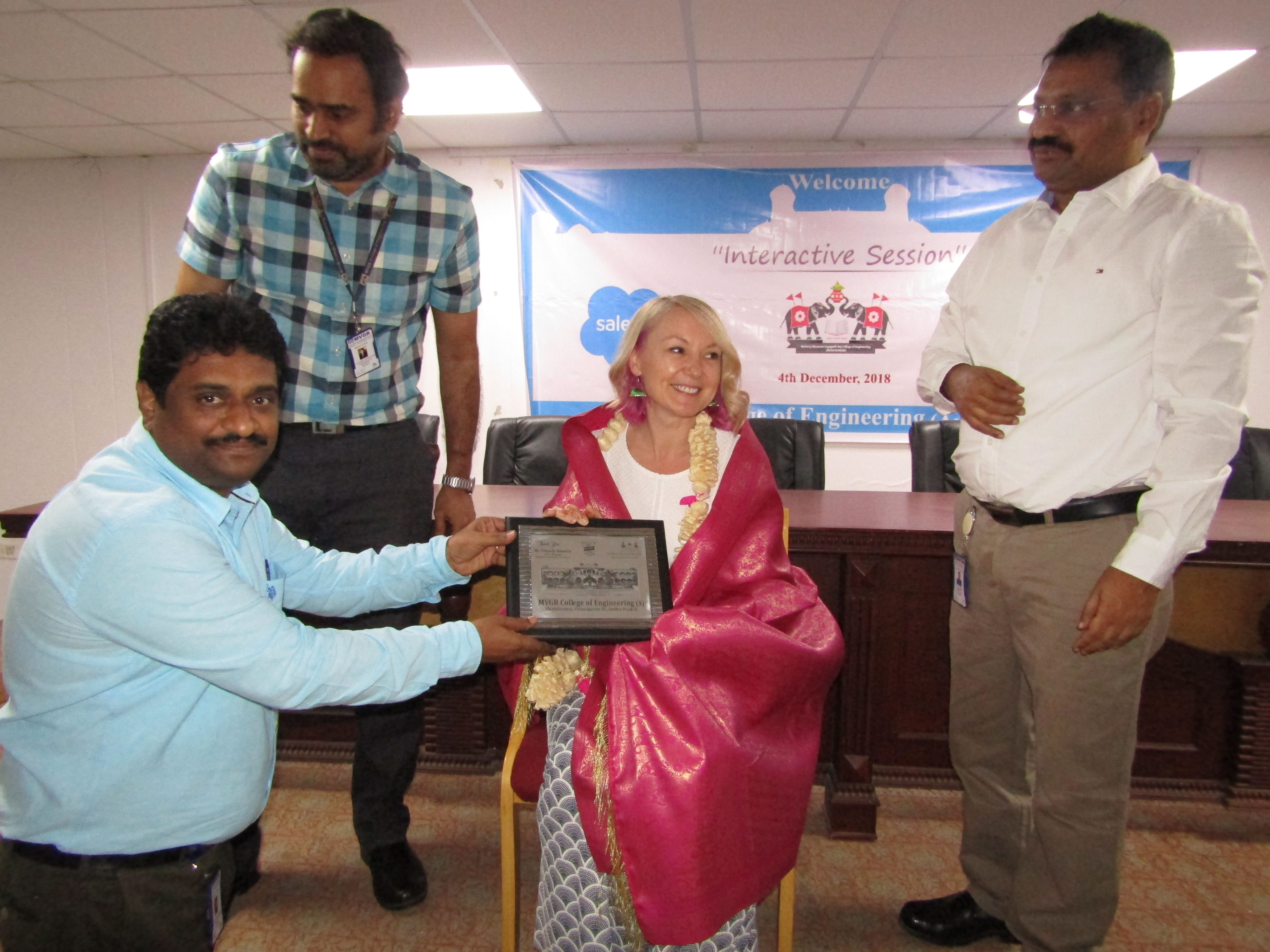 Dr.Sunil Prakash, Dean T&P, felicitating Ms.Amanda Bauman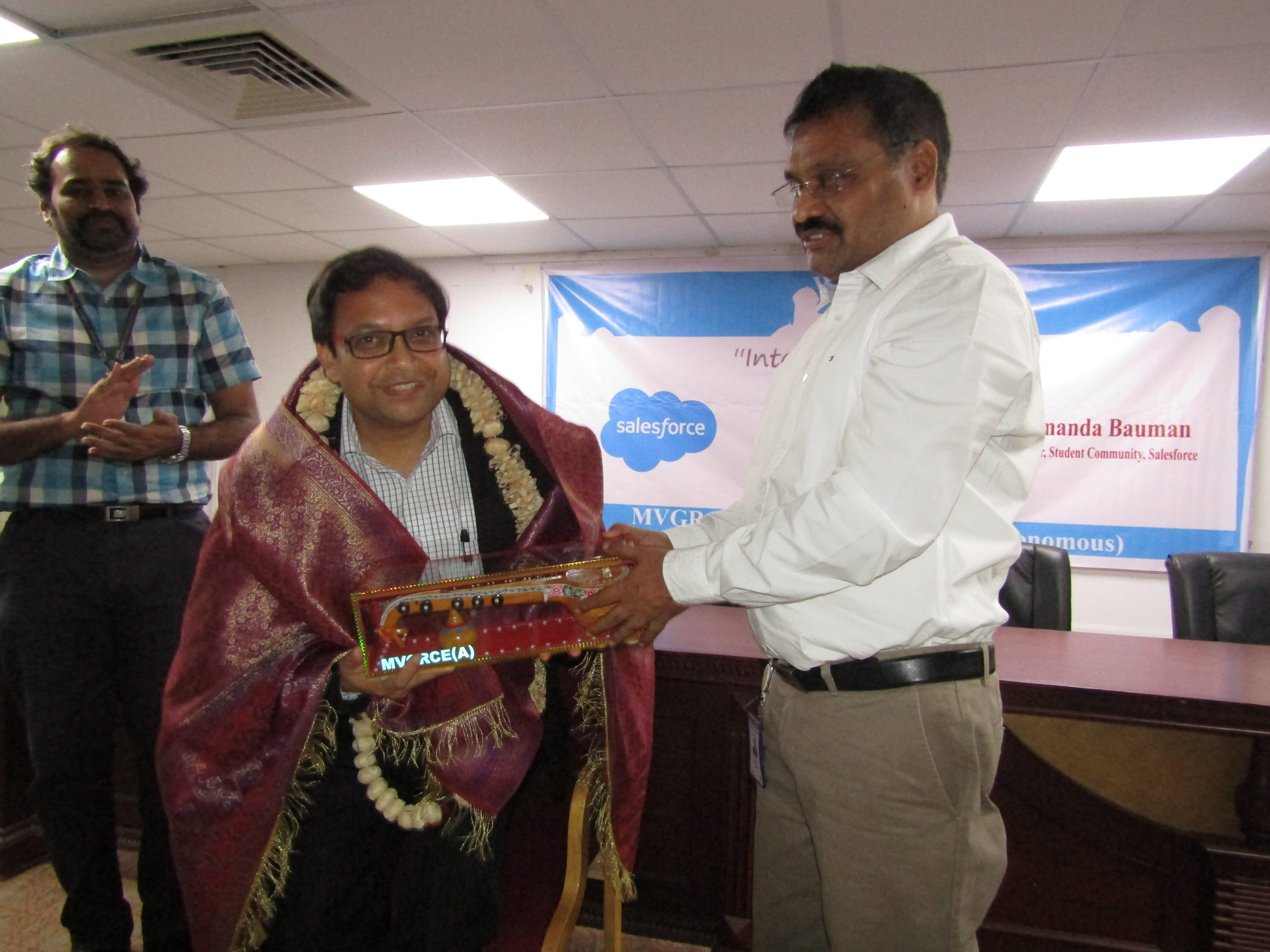 Dr.KVL Raju, Principal felicitating Mr.Viyom Jain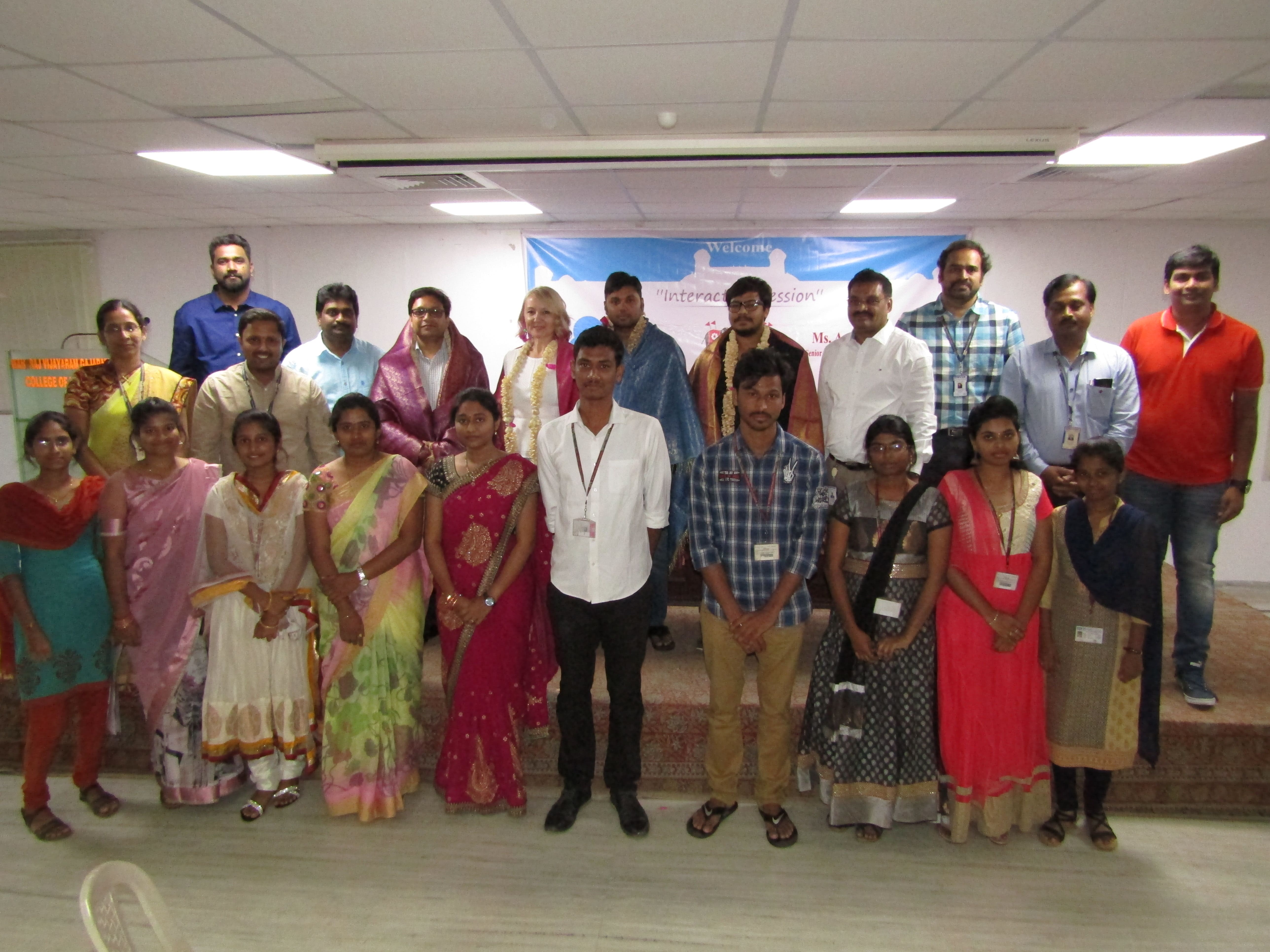 Team Salesforce with MVGR Staff and Students