Companies in 2016-17
• Samsung R&D • Kony labs • VM Ware • HSBC • Broadcom • Teradata • WHI • Vespa • Yodlee • Atlas Copco • TEGA • Bonfiglioli-India • Hyundai Mobis • Mordor Intelligence • Mahindra First Choice Services • Apps Associate • Artech Info • Nagarro • Greenpeace India • AVRA Labs • Electronic Arts (EA) • Amazon • Bosch • Trianz • Soctronics • ComTec • Ankur Lamps & Lightings • Robospecies • Virtusa-Polaris • UX Reactor India Pvt.Ltd • Sopra Steria • SuneraTech • Tectura India • Deccan Fine Chemicals India Pvt.Ltd • TCS • Cyient • Dynamics Square • Build Mate • DX Core • Medha Servo • Tayana Solutions • XportSoft • Sonata Software • Perceptice Analytics • Full Creative • CtrlS • BNP Paribas • VEM Technologies • PHY Research • Abhyeti Technologies Interns • Efftronics • Innovate Apps • L & W Construction • Caddy Code • Rajdeep Info Techno • Cloud4C • Bondada Engineering Pvt.Ltd • Miracle Software • Suventure • JMC Projects • Tilicho Intern • CODENOVUS • IMEG Engineering Pvt.Ltd • Multiplier Solutions • Harpy Core Network India • Indus Teqsite • Trigent Software • Industrial Chemical Corporation • Sevya IT • Raster Tech • Talli Godavari Fine Chemicals Pvt Ltd • SV Enviro Labs & Consultants • Webnoo Technologies • Abhra Inc • Lampex (waiting for result) • GGK Tech (waiting for result)
Total number of placements: 455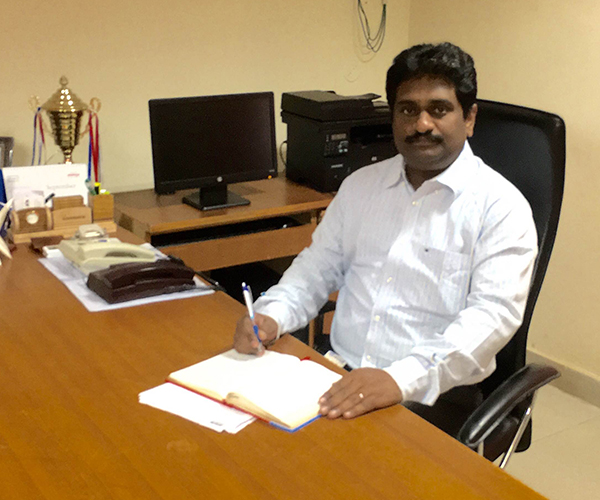 Our goal is to encourage the students to achieve their dream of getting placed in a reputed company. To achieve this goal, we instill in the students' mind the necessary ingredients such as confidence, awareness, technical readiness & the necessary hard work right from the first year.
Contact :
Dr.M.Sunil Prakash ME, PhD.
Dean-Training & Placements

Mr.Shaji Kummil Nair
Deputy Dean-Training & Placements


Email: deantp@mvgrce.edu.in
Mobile No: 9985093219

Email: tpo@mvgrce.edu.in
Mobile No: 9490106365, 9030203275
Career planning and decision making is one of the most crucial aspects of an individual's life. It is widely heard that knowledge, skills, and resourcefulness of people are critical to sustain development, economic, and social activity in a knowledge society.
The key features of the Skills Development Initiative are its localized & need based approach, scalability, output orientation, practical hands-on skills, focus for training & testing, accessibility, quality and cost effectiveness, independent assessment & verification, joint certification by awarding bodies and partners, centrally administered 'Train the Trainers' and most importantly 'benchmarked international standards of performance'.
In the first year we conduct Freshman Induction Program to the freshers. In 2nd year, students are trained on Life Skills through which they are prepared to communicate freely their ideas using the English language. Then on along with the communication in English, career guidance programs, soft skills program, and aptitude skills are conducted in 3rd and 4th year so as to face the real world scenario. We are also training our students in personality development and leadership skills. As a result, graduates and post graduates of MVGR are currently holding top position in various organizations,getting admissions in reputed Institutions in India as well as overseas and also some of the students have become successful Entrepreneurs.
Placement Record for the year 2016-2017