Companies visited So Far 2018 - 19
Mu - Sigma (21 Lpa) – Amazon – (18 Lpa) - Accolite (10 – 13 Lpa) – Beroe (8 Lpa) – Cavium Networks – (8Lpa) - Hansa Solutions (7 Lpa) - Elevate (Khazana Group) (7 Lpa) – Jaro Education (7 Lpa) - Efftronics ( 7 Lpa) - Darwinbox (6.6 Lpa) – Report Garden (6 Lpa) - EPAM (6.5 Lpa) – Broadcom (6 -Lpa) - Aclara (6Lpa) - Berger Paints – (5 Lpa) - Nine Leaps (5 Lpa) - FACE – (5Lpa) - TEK Systems – (5 Lpa) – Signode – (5 Lpa) - MAQ Software (5 Lpa) – Global Logic – (4.8 Lpa) - Riktam Technology (4.5 Lpa) - Kreeti Technologies (4.5 Lpa) - CtrlS (4.4 Lpa) - UX Reactor (4.4 Lpa) – Glenwood Systems (4.2 Lpa) – LiquidHub – (4.2 Lpa) – Red Solar (4.2 Lpa) – Nalsoft - (4 Lpa) - Medha Servo (4 Lpa) - Spyry Technologies (4 Lpa) - Indian Navy (4 Lpa) - Hyundai Mobis (4 Lpa) - Soctronics (3.6 Lpa) - Wipro (3.5 Lpa) - Pratian Technologies (3.5 Lpa) – Capgemini (3.8 Lpa) - TCS CodeVita (3.36 Lpa) - TCS Ninja (3.5 Lpa) – Zipper – (3.5 Lpa) - Solenis (3.5 Lpa) - ADP India (3.5 Lpa) – Cognizant Technologies – (3.8 Lpa) - Infosys (3.2 Lpa) - Syntel (3.1 Lpa) – Avantel – (3 Lpa) - Lotus Wireless - (3 Lpa) - Aptroid - (3 Lpa) - AIS Glass (3 Lpa) – Design Tribes – (2.6 Lpa) - MSK Consultants & Engineers – (2.5 Lpa) – Innvoative Apps – (2.4 Lpa) Astra Microwave – (2.4) Sonata Software – (2.4 Lpa) – Ram – (2.4 Lpa) Unistring Tech Solutions -(2.4 Lpa) - Axiom IO (2.4 Lpa) - Jytra Technology Solutions (2.4 Lpa) – Samratha (2.4 Lpa) - Raster Technologies (2.4 Lpa) - Just Dial – (2.2 Lpa) – Aparna Constructions – (2.2 Lpa) - Shri Ram Panels (2.2 Lpa) - SciTech Patent Art Services Pvt Ltd (Chem) (2 Lpa) - Hyper Fileration (2 Lpa) - Trimax Bio Sciences (Chem) (2 Lpa) - SKY Details (2 Lpa) - Inlight Data Analytics (2 Lpa) - HR Square LLP (Chem) (2 Lpa) – Cloud Tech – (2 Lpa).
Total No of students placed – 512 till date&nbsp&nbsp&nbsp Total no of companies visited - 71
Placement Statistics 2017-18 &nbsp&nbsp&nbsp&nbsp&nbsp Previous 2 Years Placement Statistics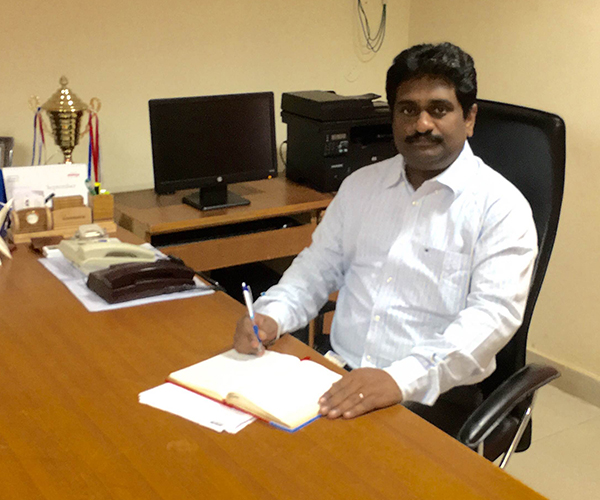 Our goal is to encourage the students to achieve their dream of going for higher studies in reputed institutions, getting placed in a reputed company or becoming a successful Entrepreneur. To achieve their goal, we conduct extensive employability enhancement programs designed to develop professional skills and provide value added training and certifications in their domain areas.
Contact :
Dr.M.Sunil Prakash ME, PhD.
Dean-Training & Placements

Mr.Shaji Kummil Nair
Deputy Dean-Training & Placements

Career planning and decision making is one of the most crucial aspects of an individual's life. It is widely heard that knowledge, skills, and resourcefulness of people are critical to sustain development, economic, and social activity in a knowledge society.
The key features of the Skills Development Initiative are its localized & need based approach, scalability, output orientation, practical hands-on skills, focus for training & testing, accessibility, quality and cost effectiveness, independent assessment & verification, joint certification by awarding bodies and partners, centrally administered 'Train the Trainers' and most importantly 'benchmarked international standards of performance'.
In the first year we conduct Freshman Induction Program to the freshers. In 2nd year, students are trained on Life Skills through which they are prepared to communicate freely their ideas using the English language. Then on along with the communication in English, career guidance programs, soft skills program, and aptitude skills are conducted in 3rd and 4th year so as to face the real world scenario. We are also training our students in personality development and leadership skills. As a result, graduates and post graduates of MVGR are currently holding top position in various organizations,getting admissions in reputed Institutions in India as well as overseas and also some of the students have become successful Entrepreneurs.
Placement Record for the year 2017-2018
Recruiters'/Visitors' Testimonials