Message from the Head of the Department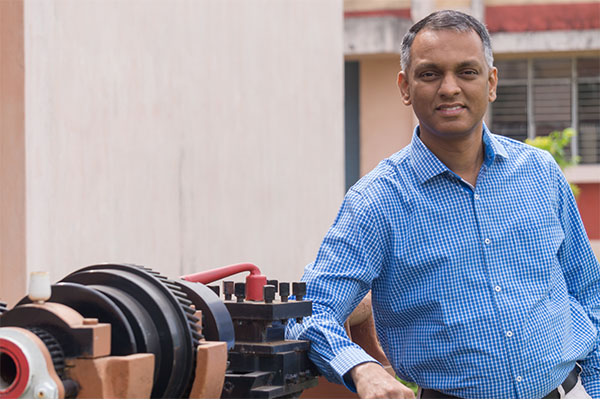 MVGR College of Engineering is making active efforts in promoting Research & Development through various academic programmes run by the departments and sponsored programmes funded by National Organisations and Industries.
This cell takes the overall responsibility of developing and implementing strategies for outreach of the Institution with other reputed institutions and organizations for fostering culture of Research and Development in the institution.
To promote and inculcate spirit of research among the members of the faculty by planning and organizing courses on Research Methodology for all eligible faculty members
To identify potential industry partners to network leading to signing of MOUs for the overall development of the department or for collaborative work or for value-added training programs for students or for setting up specialized laboratory or testing facilities
To identify and report on periodic basis the publications in the respective departments that can be linked to research incentives as well as the report on the presentations made by faculty in conferences duly briefed in the departments and to maintain a database of such research achievements of the departments
To evolve research strategy of the departments and propose budgetary requirements for the same in order to intensify research and developmental activities
More than 69 of the faculty are Ph.D degree holders in Engineering, Managements & Sciences. Another 80+ of them are actively engaged in academic research leading to award of Ph.D. The competence, commitment, dedication coupled with promotive infrastructure and amenities fostering excellence in research of which on an average about 120+ publications and presentations are reported annually.
Proposals submitted to JNTU, Kakinada by the departments of CSE, ECE, EEE, Chemical & Mechanical Engineering have been reviewed and assessed for the R&D capabilities of the Institution and have been granted the status of 'Research Center'. This facilitates its faculty to directly take admission of scholars for research guidance leading to the award of Ph.D degree.
Research worth Rs. 5,34,72,980/- has been funded by various agencies.
Sl
Title of the project
Agency
Scheme of the Project
Sanction Order Date
End
Principal Investigator
Sanctioned Amount Rs.
Status of the project
1
Modernization and Removal of Obsolescence in Machine Tools Lab
AICTE
MODROBS
2018
2019
Dr S Adinarayana
20,00,000
Sanctioned
2
Recent Trends in Sustainable Design of Structures
AICTE
FDP
2018
2019
Dr P Markandeya Raju
6,10,775
Sanctioned
3
International Conference on Sustainable Systems and Structures
AICTE
GOC
2018
2019
Dr P Markandeya Raju
5,00,000
Sanctioned
4
Toughened Concrete for Building Structures of National Importance against Impact Forces
DST
TARE
5.11.18
2021
Dr. Partheepan Ganesan
18,48,000
Sanctioned
5
Synthesis and Characterization of Thermochemical Material for Solar Thermal Energy Storage
DST
TARE
5.11.18
2021
Dr. M Siva Subrahmanyam
18,48,000
Sanctioned
6
Exploring magnetic, magnetocaloric and magnetoresistiveproperities of Ti(Fe1-xCox)2 (0
DST
TARE
5.11.18
2021
Dr. Shanmukha Rao Samatham
18,48,000
Sanctioned
7
Integrated Water Management Through Rejuvenation of Surface Tanks in Vizianagaram Town
DST
SERB
12.06.18
Ongoing
Dr R Maheswaran
1,04,33360
Commenced
8
Designing Huesler Compounds for Magnetic Refrigeration and Spintronics Application
UGC
CSR
31.03.18
Ongoing
Dr. S Samantham
45,000
Commenced
9
Two day National Seminar on Structural Reliability
DST
Seminar Grant
20.12.17
2017
Dr. P Ganesan
75,000
Completed
10
International conference on Emerging Trends in Water Resources and Environmental Engineering
DST
International Conference
14.08.17
2017
Dr R Maheswaran
1,00,000
Completed
11
Wavelet Entropy Based Multiscale Performance Analysis: An Approach to Asses and Improve Hydrological Models
DST
SERC
03.08.17
Ongoing
Dr R Maheswaran
17,01,310
Running
12
AICTE-Adjunct Faculty
AICTE
Adjunct Faculty
21.04.17
2017
Dr D R PrasadaRaju
6,00,000
Completed
13
Design and Development of KU band Micro strip patch antenna Array for Satellite Application
DST
Empowerment & Equity Opportunity for excellence in science
08.02.17
Ongoing
Dr G Anjaneyulu
31,41,000
Running
14
INSPIRE Faculty Awardees
DST
INSPIRE Program
2016
Ongoing
Dr. R. Maheshwaran
35,00,000
Running
15
Process optimization studies on Removal of Heavy Metals from Waste Water using Mixed Adsorbents
DST
SERC
17.06.16
Ongoing
Dr. D. Krishna
26,58,000
Running
16
Funds for improvement of S&T infrastructure
DST
FIST
Nov. 2015
Ongoing
Dr. K. V. L. Raju
30,00,000
Running
17
Nitrite ion and fluoride ion footprints in the ground water of some selected coastal villages of Vizianagaram dist. some investigations
UGC
Minor RP
Nov. 2014
2018
Mr. G. V. S. K. Pavan Kumar
2,95,000
Completed 2017-18
18
Development of Optode for Fluoride by Digital Color Analysis
DST
TM/WTI
16.10.2014
2018
Dr. T. V. N. ParthaSarathi
27,65,940
Completed 2017-18
19
Vibration analysis of multifuel VCR engine using non edible oils
UGC
Minor RP
March 2014
2018
Mr. B. Madhav Varma
1,70,000
Completed 2015-16
20
Development of an intelligent automated furnace handling system for hardness control in mild steel
UGC
Minor RP
March 2014
2014
Mrs. S. Jyothirmai
4,00,000
Surrendered
21
Surfactant impregnated chitosan as adsorbent removal of dyes from industrial effluents
UGC
Minor RP
March 2014
2018
Mr. G. Ram Kumar
3,40,000
Completed 2017-18
22
Power Quality Improvement in Hybrid Energy Systems
AICTE
SG
20.11.2013
Feb 2014
Mr. K. S. Ravi Kumar
1,50,000
Completed
23
An Efficient Brain MR Image Segmentation for Easy Diagnostic Process
IEI
R&D Grant
18.09.2013
2016
Dr. V. Nagesh
1,50,000
Completed
24
Modernization of Electrical Machines lab
AICTE
MODROBS
26.03.2013
2014
Dr. R. Gowri Sankara Rao
16,82,000
Completed
25
Modernization of Chemical Reaction Engineering lab
AICTE
MODROBS
18.02.2013
2013
Mr. P. Ramesh
10,42,920
Completed
26
Investigation of combustion, emissions and vibrations of VCR Engine
AICTE
RPS
07.02.2012
April 2014
Dr. N. Ravi Kumar
17,00,000
Completed
27
Advanced methods of surveying with total station and GPS
AICTE
SDP
13.01.2012
May 2012
Dr. K. Rajeswara Rao
3,50,000
Completed
28
Prevalence of Unmet Counseling Needs in Female and Male Professional College Students
ICSSR
ICSSR
22.03.2010
2011
Dr. K. Suneetha
3,38,675
Completed
29
Modernization of Microwave lab
AICTE
MODROBS
21.12.2009
2010
Dr. M. Sunil Prakash
15,00,000
Completed
30
Modernization of Thermal Engineering lab
AICTE
MODROBS
21.12.2009
2010
Dr. R. Ramesh
7,80,000
Completed
31
Modernization of Network Security lab
AICTE
MODROBS
21.12.2009
2010
Dr. Sumit Gupta
10,00,000
Completed
32
Modernization of Mechanics & Hydraulics lab
AICTE
MODROBS
21.12.2009
2010
Mr. P. Ramesh
10,00,000
Completed
33
Development of an artificial intelligence based performance enhancement system for an open architecture controlled machine
DST
SERC
04.09.2009
Feb 2014
Dr. R. Ramesh
38,00,000
Completed
34
Entrepreneurship Development Cell
MSME
EDC
24.04.2009
Ongoing
Dr K C B Rao
7,00,000
Completed
35
Integration of Computer Based Methodologies in ME Systems
AICTE
SDP
12.03.2009
2009
Dr. R. Ramesh
7,00,000
Completed
36
Machine Learning Tools and Applications
AICTE
SDP
12.03.2009
2009
Dr. Sumit Gupta
7,00,000
Completed
| Sl. | Collaborating Organization | DoS MoU | Status | Purpose |
| --- | --- | --- | --- | --- |
| 1 | iKriya Learning LLC | 05.01.19 | Active | To perform collaborative research on IoT product development |
| 2 | Zunik Energies | 30.11.18 | Active | To train faculty on power elctronic Convertors Design and Controller Development |
| 3 | Geospatial and Environmental Solutions | 14.11.18 | Active | To collaboratively work with students on real time projects |
| 4 |  APSSDC and Dasssault Systems | 14.11.18 | Active | To establish a 3D Center of Excellence and to provide industry and domain skills to students. |
| 5 | JNTU Kakinada | 01.09.18 | Active | Signed as a part of Margdashan scheme of AICTE to facilitate the development of collaborative and mutually beneficial programs which serve to enhance the teaching pedagogy |
| 6 | CodeTantra Tech Solutions Pvt. Ltd | 05.05.18 | Active | To make students employment ready in IT Sector |
| 7 | Novel Intellectual Property Rights Academy (NIA) | 04.05.18 | Active | To create, develop and promote IPR Cell in the college |
| 8 | Benaka Technologies | 30.5.2017 | Active | To establish a Biogas plant in the college |
| 9 | Andhra Pradesh Skill Development Center | | Active | To set up a technical center of excellence |
| 10 | Leadership Foundation | 15.11.16 | NS | To establish Technology Hub for Student Activity Center |
| 11 | Costuco Pvt. Ltd | 08.11.16 | NS | For Liaising and Corporate relations purpose |
| 12 | Focus Academy for Career Enhancement (FACE) | 19.09.16 | Expired | To impart employability skill enhancement training to the students to face interview |
| 13 | Cassius Technology Pvt. Ltd | 14.6.16 | | Campus Placement Consulting Agreement |
| 14 | Virtusa Consulting Services Pvt Ltd | 08.06.16 | Active | To make the students more exposed to the present industrial needs and requirements thereby reducing the cost and time involved in training. |
| 15 | Siemens | 12.04.16 | NM | Training support to students on Automation and Drive Modules |
| 16 | McGrawhill Pvt. Ltd | 01.01.16 | NM | Licensing for subscribed material |
| 17 | Tata Consultancy Services Ltd | 06.07.15 | Active | Facilities Agreement |
| 18 | Clairion Services and Systems Pvt. Ltd. | 16.11.15 | Active | To provide training, seminars, consultancy, workshops etc. to MVGR college |
| 19 | Andhra Pradesh Skill Development Center and NASSCOM | NM | NM | To provide training for IT-ITeS sector by SSC NASSCOM |
| 20 | Andhra Pradesh Skill Development Center and NASSCOM | 4.9.15 | Active | To provide qualification Pack (QP) based training program to enhance student skills and employability |
| 21 | TCS | 06.07.15 | Active | For providing end to end infrastructural support as defined in the scope of services. |
| 22 | Indian Telecom Innovation Hub - TBI | 29.01.15 | Active | To establish a Startup Bootcamp at MVGR to function as an Idea Clinic/Mini-incubator for anchoring the incubation needs of students of MVGR |
| 23 | Adroitec Engineering Solutions Pvt. Ltd. | 05.01.15 | Expired | Centre of excellence in Product Lifecycle Management |
| 24 | INOT Power Technologies Pvt Ltd | 01.11.14 | Expired | To design, develop and deploy automated street light monitoring and controlling system |
| 25 | LEAD, Deshpande Foundation | 08.08.14 | Active | To explore possibilities for collaboration, and to partner on various students initiated projects |
| 26 | NICCO Ventures Ltd | 08.08.14 | NM | Gold Membership for Placement Support |
| 27 | Indian Institute of Remote Sensing | 05.08.14 | NM | To build up capacity through training, education and research. |
| 28 | Conduira | 16.06.14 | Expired | Giving training to the students (final year B.Tech and final year MBA and MCA) so as to prepare them for forth coming campus recruitments |
| 29 | Palladium Developers Pvt Ltd | 06.05.14 | Active | To provide a student-centric learning approach consisting of several stages designed to add to several stages of learning. |
| 30 | Y2Y Signals Pvt. Ltd | 01.05.14 | Active | To provide an opportunity for developing in areas like consultancy,R&D, Project support etc |
| 31 | Kriatec Services Pvt Ltd | 26.03.14 | Expired | Centre of excellence in new product development in CNC |
| 32 | Simtech Simulations | 19.03.14 | NM | Enrichment of technical education in procedure sand practices followed by chemical processing industry |
| 33 | Tata Consultancy Services Ltd (TCS) | 18.01.14 | Expired | To provide support to the student and teacher communities through workshops, FDPS',Student Internships. |
| 34 | Mihir Mobile Solutions Pvt Ltd | 09.07.13 | NM | For the use of mobile student management system software |
| 35 | Bob Tech Solutions | 24.06.13 | Expired | To enhance skills of students through real- time project |
| 36 | NI Systems (India) Pvt Ltd | 14.06.13 | Expired | Focus on Algorithm Engineering and Graphical System Design |
| 37 | Dr. Reddy's Laboratories Ltd | 19.05.13 | Expired | Deputation of employees for studies |
| 38 | Microsoft | Feb'2013 | NM | Certification driven training for a varied set of Microsoft technologies that subsequently allow the students to get industry recognized certification though Microsoft conducted examination |
| 39 | Gram Tarang Foods | 22.01.13 | Expired | To establish research studies |
| 40 | EC-Council Academia | Jan' 2013 | NM | To impart high quality security related education to business and industry professionals. |
| 41 | Talent Sprint | 31.12.12 | Expired | Training is offered to the students to impart employability skills including professional development, foundational software engineering and technical specialties. |
| 42 | Newdawn Automation | 25.07.12 | Active | Industry-Institute tie up for technical advancement |
| 43 | Novel Patent Services Pvt Ltd | 12.07.12 | Expired | To acknowledge the students about IPR Rights, Patent filing and Patent Drafting |
| 44 | ThinkLABSTechnosolutionsPvt Ltd | 05.09.11 | Expired | Detailed programming in Embedded systems (1&2)and RTOS systems(1&2) |
| 45 | Centre for Entrepreneurship Development (CED) | 05.08.10 | Expired | To share experiences, information and develop methods, common tools, projects for promotion of entrepreneurship and other related activities |
| 46 | Cisco Networking | 15.06.10 | Expired | To help students how to design, build and maintain computer works for local , national and global business |
| 47 | ZuesNumerixPvt Ltd | 20.11.09 | Expired | To set up CFD Research center in the college |
| 48 | Parametric Technology Corporation (PTC) | 10.10.09 | Expired | Authorized training center to teach basic design in pro-engineer Wildfire |
| 49 | Invensys Development Centre India Pvt Ltd | 16.07.08 | Expired | To provide technical training to students in areas of electronic software languages. |
| 50 | Oracle | 19.02.08 | Expired | Order of oracle for work force development program |
| 51 | Askar Microns (P) Ltd | 18.06.07 | Expired | Industry-Institute tie up for technical advancement |
| 52 | IBM | | NM | Helps the students to stay forefront of advanced software development techniques using the open and extensible IBM Rational Software |